Bandida
The Bandida album tells the story of one woman's journey. Beginning with "Brave Pete" we meet this sad, dreamer of a child and follow her as she chases those dreams straight into triumph, heartbreak, violence, loss, and finally, contentment. A universal tale told through a country-folk lens that perfectly fits this cowgirl's very western story.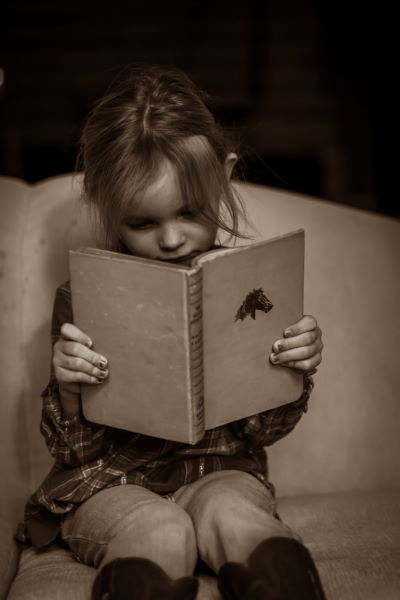 Brave Pete
They gallop through pastures and across mountain streams
His eyes made of buttons, his mane made of strings
Alone in her room six floors up from the street
She dreams of adventure for her and Brave Pete
Her mother is crying about disappointment
Her father gone so long he's not even missed
She closes her eyes and imagines the mountains
She whispers to Pete, we won't end up like this.
She reads Misty and Flicka, Black Stallion, Black Beauty
Cuts out pictures of horses from old magazines
At school she's so quiet, they don't even see her
Just the girl with long hair, cowboy boots and blue jeans

Big City Days
Buildings they block out the sun
This city life just ain't no fun
I wanna feel the wind on my face
I wanna get out of this big city place
All day long working for the man
This is not the life that I had planned
Thought I'd be best friends with a horse,
of course, by now
But it's all day long working for the man
Whatever happened to the girl I was
When did those technicolor dreams begin to fade
Life was going to be a western movie
It's just more of these big city days
I'm done doing what they say
I gotta do things in my own way
Before I go out of my mind
I'm leaving this big city behind

On The Train
On the train I'm headed out to where I want to be
Going to find the places that have long been calling me
Take me to the mountains
To the wide and open skies
Take me to a place where I can fly.
On this train from sadness
On this train from misery
Every mile away from here my spirit's soaring free
Wasted years of following a path I never chose
Westward bound a new life found
Wherever this train goes
I am going to get a horse
and I will learn to ride
Where we go together...
I'll decide
I don't know what's waiting when I step down from the track
All I know is I'm not looking back.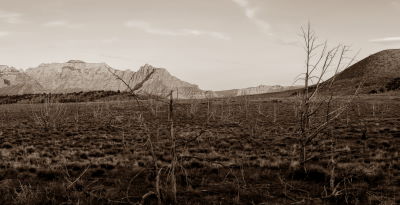 Let's Ride Horses Together
Let's ride horses together
You and me forever
Side by side, we'll ride and we'll ride
Let's ride horses together
Cowboy, you've stolen my heart
Never no more shall we part
I looked around and it was you that I found
Cowboy you've stolen my heart
We'll rest our painted ponies
On the wide open prairies
Doesn't matter where, just as long as you're there
We'll rest our painted ponies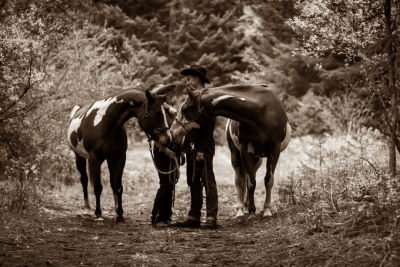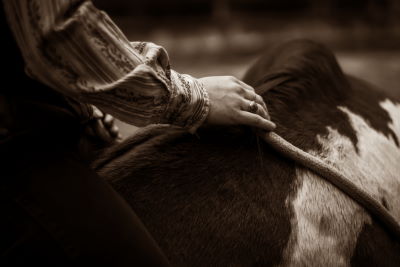 Lyris' Song
Note: the lyrics for Lyris' Song were written by Jessica's mother Lyris based on her experiences learning to ride.
It was time to fulfill a dream I'd had as a child
To adopt a mustang from out in the wild
Cowboy delivered my soulmate and wished me good luck
Cuz some of these ponies, they can really buck
My beautiful new friend without a shadow of a doubt
Was not the kind that he was talking about
He was a lot less friendly, he was a lot more wild
than my sweet brave Pete I loved as a child
Reaching out to pet him, he pinned back his ears
I didn't remember Black Beauty wheel and rear
I've seen it on TV, how hard could it be
To tame a wild pony, running wild, running free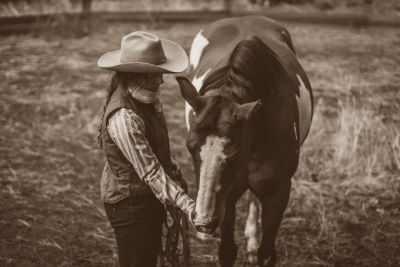 The big day came and I was ready to ride
I approached and retreated like the flow of the tide
I stepped into the stirrup, pulled myself up
All hell broke loose, I landed face down in the muck
I brushed myself off and I tried again, and again and again
I kept on trying but doubt was creeping in
Every inch of my body was tired and bruised
No longer inspired, I felt foolish and abused
I considered freeing him to roam the plains
Me and my shattered dreams, all that remained

One bright morning I awoke with a start
I felt renewed and in touch with my heart
Baby steps, stops and starts, progress and regression
I remained committed to my lifelong obsession

Though not as dramatic as I'd always envisioned
I'm riding my pony and he's starting to listen
We'll never win races or jump Grand Prix
But we are best friends, my pony and me.

Dimestore Cowboy
In jeans and pearl snaps he waltzed into the bar
He was playing the part of a western movie star
Just a dimestore cowboy, took her a while to discover
Blindness comes to brand new lovers
He sleeps around all over town and don't come home for days
A man even speaks to her and she's the one with hell to pay
She tried to make him happy and see how much she cares
He's so full of hate, he's got only hate to share
She finally gave up and decided she would have to go
He grabbed her by the arm and he threw her to the floor
She thought he was just dumb and mean but it appears much worse than that
And she's stuck here looking at all his stupid cowboy hats
Here's her chance, he's passed out in a drunken sprawl
Looks like she'll be leaving here after all
Her heart pounds as she searches for the keys
Little cow dog silently leaps into the seat
The sun's coming up over the hood of his truck
Let's hope this cowgirl don't run out of luck.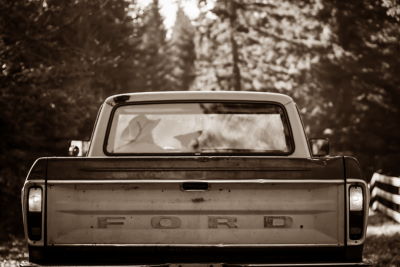 Romance Novel Cover
Just cuz he looked like the cowboy on a romance novel cover
Sexy grin, hint of sin, promises to love her
Low riding Wranglers, John Deere tractor hat
Sweet talkin cowboy
There's no resisting that
How many times did I fall for his lying
Sold me on his charms but I'm no longer buying
I should've known not to fall for his looks
Cuz that kind of guy is only real in those books
I thought he was the one for me, don't know what I was thinking
I found out all too quickly
He was mean when he was drinking
Smile so deceiving, I didn't see through it
Tried to ignore it, perhaps I always knew it
He taught me how to ride and rope and how to shoot a gun
Charm that hid a brutal side and now we're on the run
Had to get away from him, little cowdog too
If he catches up with us,
Don't know what he will do.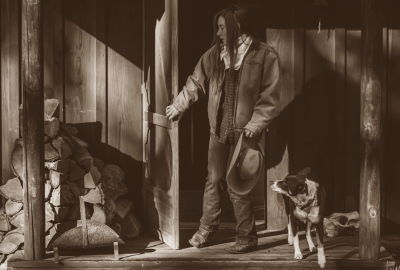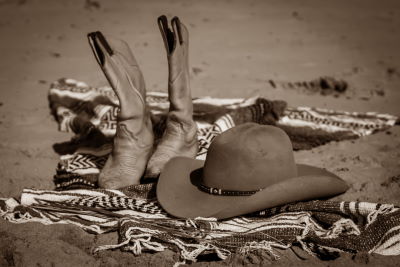 Desert Winds
Dreams of a little girl crumbled and tattered
Why did she think that her happiness mattered
Where will she go now
Winds howl forsaken
She was forgiving and he was for taking
Blow you desert winds, tears fall like rain
Head in confusion, heart full of pain
Blow you desert winds, tumble and swirl
Bring back the dreams of a horse and a girl
Lost and afraid, tired and low
No one to turn to, nowhere to go
She didn't know that her heart could be broke
Visions of happiness gone up in smoke
Pick up the pieces and just keep on traveling
Try not to think of a life that's unraveling
Building a life on a dream and a prayer
Never imagined life was unfair
Running away, just Cowdog beside her
Gone is the magic of hope that would guide her.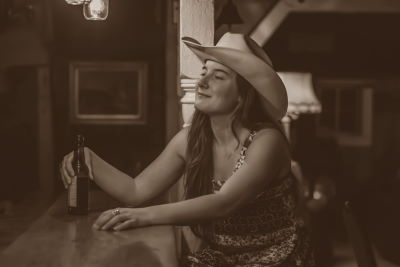 Mexico!
Crossed the border, didn't get arrested
Ready for a Mexican fiesta
Thanks for the dog and truck
Adios, you sorry shmuck
Six pack of cerveza for just a buck
Mexico is grand
Took the dog and left the man
Vaya con Dios, I've gone away
Sitting in a hot cantina on a red barstool
Wondering how I could've been such a loco fool
Life's got twists and turns
Lessons gotta be learned
Wish I remembered the spanish I had in school.
Cigarettes and cervezas, one more time
Give me a shot of tequila and a lime
I'll get muy borracho
And find me a handsome muchacho
Worrying about the future ain't worth a dime
Corona y tequila con limon
Muy triste es mi corazon
Ahora estoy muy borracho
Tan guapo este muchacho
Hasta la vista al cowboy cabron.

Bandida
Long shadows cross the desert night
She walks, little cowdog beside
Cold dangerous man, a vision in the night
Both will not live to see the morning light
Hard diamond stars fill the sky
She runs toward a far off mesa
Crouch behind a boulder to wait
Shaking hands grip her pistol tight
Darkness crushes, becomes all
She becomes night, she becomes small
Desert mother keeps her from sight
He closes in and time begins to fly
Sharp sliver of moon, sharp bullets sound
To the rocky ground, two bodies found
Dark blood pours from the man
Little cowdog lies still on the sand
Cactus flowers bloom strong
As she sends little cowdog on
Bandida's innocence is gone
As she wanders the desert with an empty corazon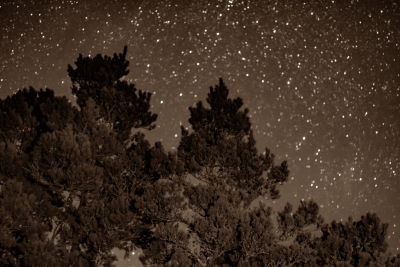 Wind in the Mountains
I was the kid who had dreams of adventure
Chasing the storybook life meant for me
Got me a horse and a dog and a cowboy
But storybook endings were not meant to be.
I can remember the places in my mind
Memories now light up my days
And I think if only I let my heart wander
I can be far away, far away
I hear a song like the wind in the mountains
I see the road like stars in the night
I still don't know, after all that's behind me
Did I get it all wrong or all right
The stars in the sky on the wide open prairie
All disappear with the dawn
The secret we keep from every star dreamer
Love's an illusion, here and then gone